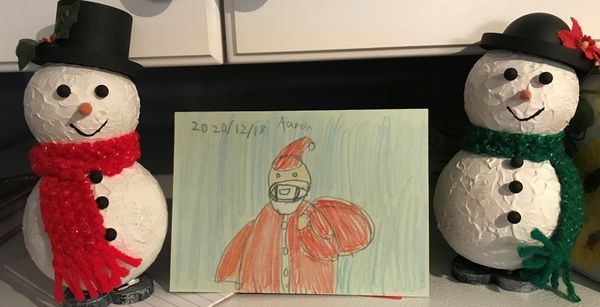 The gift of 11 pipers piping in the song, Twelve Days of Christmas, is reputed to be about the 11 faithful apostles. Yes, there were 12 apostles at one point, but you may remember Judas went a little sideways. 
Stories of the apostles the humbly serving Christ makes them a good match for the song, The Little Drummer Boy, on my Aurora 12 album. 
This year in, particular, it's truly a gift to be able to know how much we yearn to be with family and friends, and to spend less time running around buying into the commercialism of the Christmas season as we search for the perfect gifts for loved ones. 
The gift of sharing our talents is incredibly precious and meaningful. We feel so vulnerable when we dare to draw upon our natural gifts, like the little drummer boy who said he had no gift to give. But when we take that little risk, we give others so much joy.
This week my nephew Aaron gave me a hand-drawn Christmas card. It is wonderful and makes me smile every time I look at it. Children have so many natural talents and we can help nurture those talents, so they can successfully pursue the dreams that live in their hearts. 
Was the little drummer boy's gift of song any less valued than the valuable gifts of gold, frankincense and myrrh brought by the three wise men? Not one little bit! Every year, the song of the little drummer boy reminds us that our gifts are measured not in monetary value, but in our willingness to reach inside and truly share who we are with one another. 
The thoughtful gifts, such as baking, art, music, songs, hand-made crafts, virtual gatherings, phone calls, letters, cards, shared stories and memories, are priceless. I believe the apostles would be very proud of us and the gift of community and togetherness that we are creating with our own drums – rum pum pum pum, rum pum pum pum. My gift to you is my version of The Little Drummer Boy.
(This is the eleventh of a daily 12-part blog series offering positive and inclusive messages throughout the festive season, along with songs from Sandra's newly released Christmas album, Aurora 12. Catch up on previous posts by visiting Sandra's blog.)